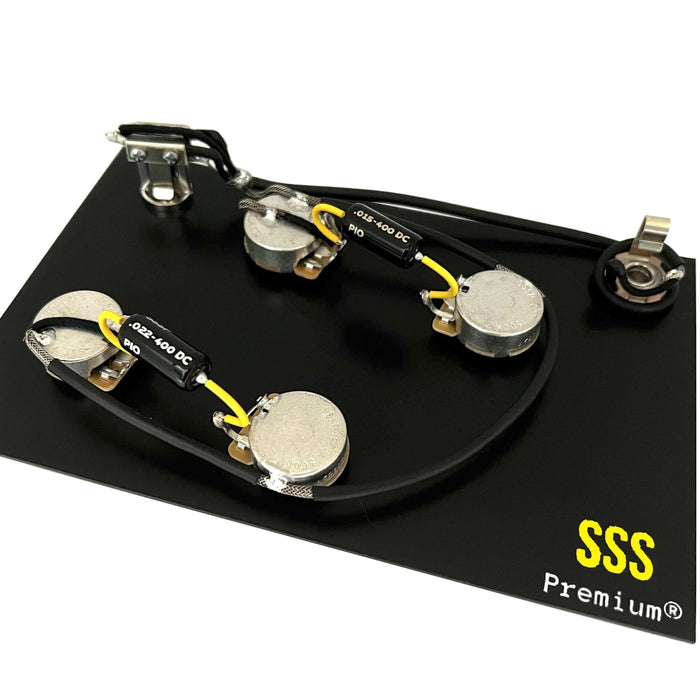 ES-335® Wiring Harness
Original price
£99.95
-
Original price
£99.95
Availability:
available to order
Delivery time
SSS Premium® prewired kits are subject to a 3-5 working day assembly time. Refer to our shipping policy.
Prewired harness to suit Gibson® or Epiphone® ES 330®, ES 335® ES 355®, ES 339®, Dot and Casino style guitars.
The perfect upgrade to imported far eastern models, this prewired harness will also improve the overall performance and tone of any model, from partscasters and DIY guitar kits to top of the range Custom Shop.
Simply reattach your pickups and ground wire from the bridge.
Featuring:

Quality Components, Professionally Soldered
Our ES 335® wiring harness uses top of the range components which are then professionally soldered together in our workshop to create a quality, tone defining circuit. CTS and Switchcraft® have been the industry "standard" for high end guitars for decades.
SSS Premium® CTS Pots
Featuring SSS Premium® CTS pots, our prewired 335 kit is the ultimate upgrade to stock electronics. SSS Premium® pots have a custom audio taper as opposed to the modern 10% audio taper, giving you a smoother and more rounded control sweep with no sudden drop offs or choking. Supplied to within 8% tolerance.
50s Style Wiring
This kit is wired up using braided guitar wire (Gibson® style) in the popular 50s style wiring. The 50s style wiring adds a little extra output and retains the high end notes as the volume is dialled down.
Will This Fit My Guitar?
This prewired harness will fit Gibson® and Epiphone® ES330®, ES335® and Casino models with no modification required.*
*If you are installing into a far eastern model, eg. MIK or MIC Epiphone, you may be required to enlarge the potentiometer holes (to 10mm diameter) and the toggle switch to 12mm. Our components are imperial sized (24 spline, 6-32 thread). Replacement knobs & tips are available here.