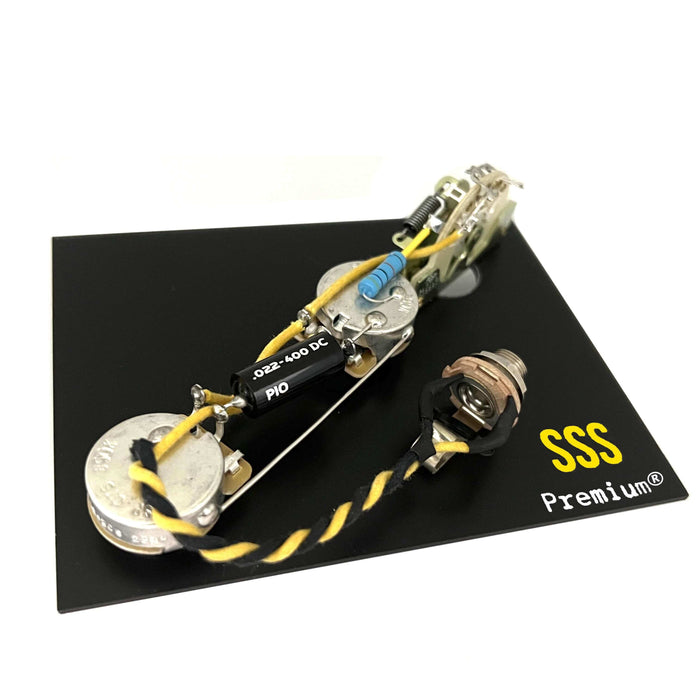 HS Telecaster® Wiring Harness
Original price
£64.95
-
Original price
£68.95
Availability:
available to order
Availability:
available to order
Availability:
Only 5 available to order!
Availability:
Only 4 available to order!
Delivery time
SSS Premium® prewired kits are subject to a 3-5 working day assembly time. Refer to our shipping policy.
For use with a humbucker and single coil equipped Telecaster®, this prewired HS Tele® kit makes use of a 470k resistor in parallel with the single coil pickup - this ensures your single coil pickup "sees" 250k resistance value whilst the humbucker "sees" 500k.

This is a nice way to balance single coils and humbuckers in the same circuit.
Featuring:
SSS Premium® CTS 500k solid shaft pots

 

(8% tolerance)
CRL USA 3-way spring action switch
Pre-wired Switchcraft

®

 

USA jack socket

470k resistor to mimic 250k pot resistance value for single coils.
Vintage tinned-copper "buss" ground wire
Gavitt

®

 

USA cloth wire
SSS Premium® Pots
Featuring SSS Premium® CTS pots, our prewired kits are a premium upgrade to stock electronics in modern guitars. SSS Premium® CTS pots have a custom audio taper giving you a smoother and more rounded control sweep - no sudden drop offs or choking as you roll the volume back. SSS Premium® CTS pots are supplied within a resistance tolerance of 8%.
CRL Switch
CRL switches are renowned for their quality and are the switch of choice for high end guitars and techs worldwide. The spring action offers incredibly high and consistent performance over a long period of time.
SSS Premium® PIO Capacitor
Constructed in the USA, our PIO capacitors are made using using vintage spec aluminium foil and Kraft paper, impregnated with castor oil and hand soldered before being hermetically sealed in their cans. All measured to a capacitance tolerance of +/- 5%.
Will this fit my guitar?
Our prewired HS Telecaster kit is wired into genuine Fender® USA/MIM control plates. If installing into an imported model/DIY guitar kit you will need to ensure the holes on the control plate will take CTS pots (approx. 10mm diameter).#
You may also be required to purchase new control knobs. The CTS pots in this prewired HS Tele® kit are solid shaft and will require imperial sized knobs (screw fit with a 1/4'' bore hole).