A simple way to add a little extra to your Telecaster - replace the standard 3 way switch with a 5 way switch and you add two extra dimensions to your tone.
This setup enables the HOOP (half out of phase switching options) as well as your traditional Telecaster switch positions. The first 3 positions are the same as your typical Telecaster (neck, neck + bridge in parallel and bridge) with the addition of 2 further options. Position 2 on the switch puts the neck and bridge pickups half out of phase with each other, whilst the 1st position on the switch puts the neck pickup up on a fixed capacitor in series (0.001uF) which is similar to the Esquire Eldred Mod. Half out of phase wiring generally sounds a bit fuller/sweeter and is similar to those "in between" sounds you can get from a Strat.
The capacitor values vary and you may find you'll want to mix and match and test out a few values before setting on a preferred value. Typically for the tone control, you can use a 0.022uF/0.033uF/0.047uF capacitor depending on your tastes. For the capacitor on the switch, you can use anything between anywhere between 0.005 µF (5000 pF) and 0.02 µF will work nicely.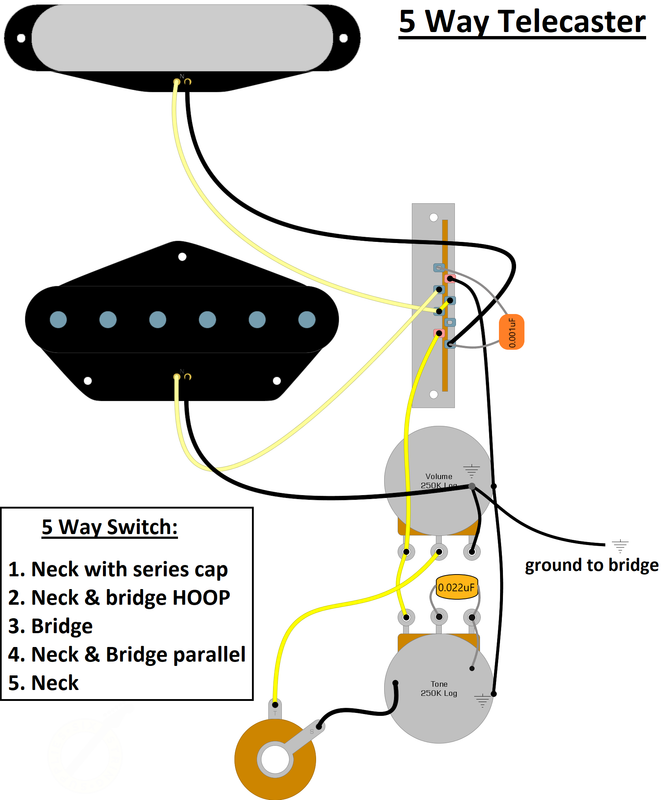 Telecaster Wiring Diagrams
3-Way Telecaster (read our guide to Telecaster wiring)
4-Way Telecaster (read our guide to wiring a 4 way Telecaster)
Wiring in Series (with push pull pot)
Telecaster 3 Way Switch Wiring
Telecaster 4 Way Switch Wiring